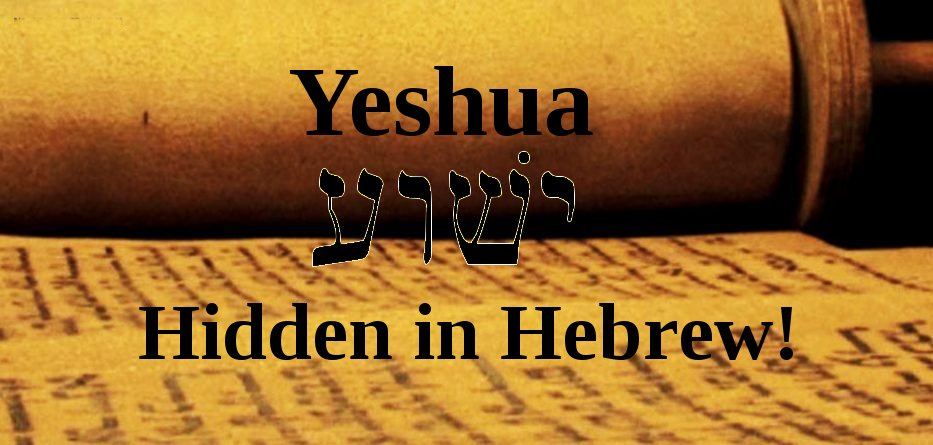 Yeshua Hidden in Hebrew!
Numerous times we see the word Yeshua encoded in equidistantly spaced intervals of the ancient Hebrew text. 
It is amazing that all of these encodings just happen to occur in appropriate passages that talk about the Messiah.
The encoded spelling is almost always in the shortened form as Yeshua rather than Yehoshua!
The staggering degree of mathematical design required to produce such codes must have been produced by a supernatural intelligence! No other Hebrew text outside the Old Testament contains these mysterious codes.
The following instances of the name Yeshua encoded in the Hebrew scriptures were found by Yacov Rambsel. He didn't use a computer – only a Hebrew Bible, scratch paper, pen, artist's pencils, and a calculator!
Yacov Rambsel, Yeshua – The Name Of Jesus Revealed In The Old Testament Canada: Harmony Printing Limited.,1996.
See Yacov Rambsel with Sid Roth in 1996 :
YouTube – Hidden Bible Codes Reveal Incredible Message to Humanity!
Proverbs 25:2 It is the glory of God to conceal a thing: but the honour of kings is to search out a matter.
Daniel 12:4 But thou, O Daniel, shut up the words, and seal the book, even to the time of the end: many shall run to and fro, and knowledge shall be increased.

Ruth 1:1 Now it came to pass in the days when the judges ruled, that there was a famine in the land. And a certain man of Bethlehemjudah went to sojourn in the country of Moab, he, and his wife, and his two sons.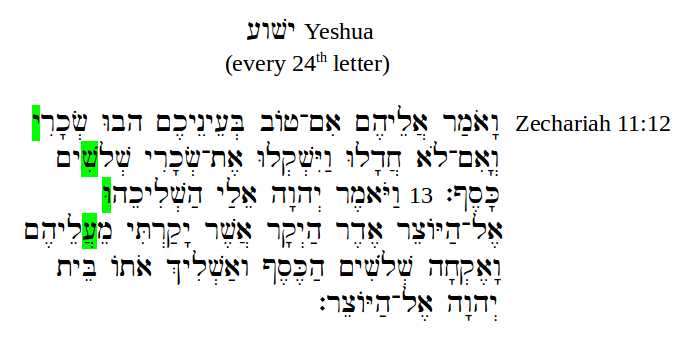 Zechariah 11:12 And I said unto them, If ye think good, give me my price; and if not, forbear. So they weighed for my price thirty pieces of silver. 13 And Yehovah said unto me, Cast it unto the potter: a goodly price that I was prised at of them. And I took the thirty pieces of silver, and cast them to the potter in the house of Yehovah.

Hosea 7:15 Though I have bound and strengthened their arms, yet do they imagine mischief against me.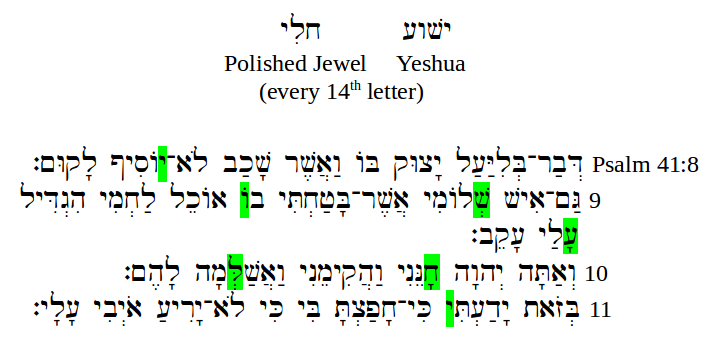 Psalm 41:7 All that hate me whisper together against me: against me do they devise my hurt. 8 An evil disease, say they, cleaveth fast unto him: and now that he lieth he shall rise up no more. 9 Yea, mine own familiar friend, in whom I trusted, which did eat of my bread, hath lifted up his heel against me. 10 But thou, Yehovah, be merciful unto me, and raise me up, that I may requite them. 11 By this I know that thou favourest me, because mine enemy doth not triumph over me.

Zechariah 9:9 Rejoice greatly, O daughter of Zion; shout, O daughter of Jerusalem: behold, thy King cometh unto thee: he is just, and having salvation; lowly, and riding upon an ass, and upon a colt the foal of an ass.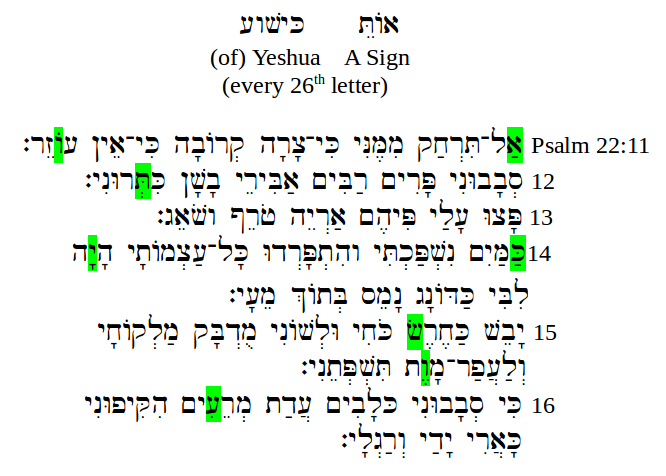 Psalm 22:11 Be not far from me; for trouble is near; for there is none to help. 12 Many bulls have compassed me: strong bulls of Bashan have beset me round. 13 They gaped upon me with their mouths, as a ravening and a roaring lion. 14 I am poured out like water, and all my bones are out of joint: my heart is like wax; it is melted in the midst of my bowels. 15 My strength is dried up like a potsherd; and my tongue cleaveth to my jaws; and thou hast brought me into the dust of death. 16 For dogs have compassed me: the assembly of the wicked have enclosed me: they pierced my hands and my feet.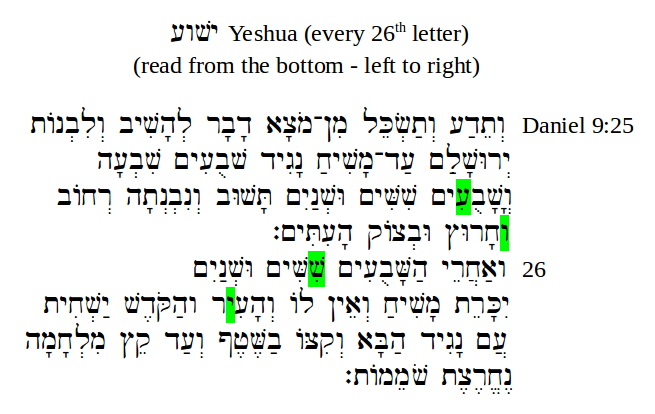 Daniel 9:25 Know therefore and understand, that from the going forth of the commandment to restore and to build Jerusalem unto the Messiah the Prince shall be seven weeks, and threescore and two weeks: the street shall be built again, and the wall, even in troublous times. 26 And after threescore and two weeks shall Messiah be cut off, but not for himself: and the people of the prince that shall come shall destroy the city and the sanctuary; and the end thereof shall be with a flood, and unto the end of the war desolations are determined.

Leviticus 21:10 And he that is the high priest among his brethren, upon whose head the anointing oil was poured, and that is consecrated to put on the garments, shall not uncover his head, nor rend his clothes;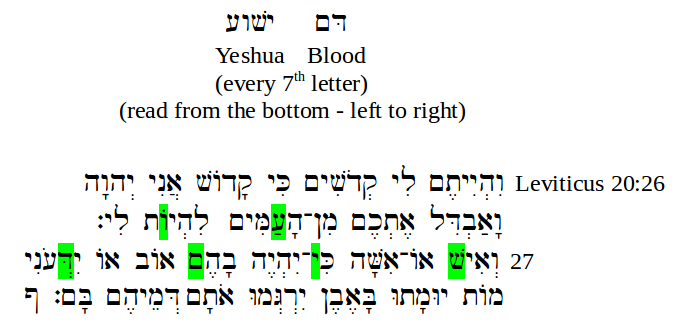 Leviticus 20:26 And ye shall be holy unto me: for I Yehovah am holy, and have severed you from other people, that ye should be mine. 27 A man also or woman that hath a familiar spirit, or that is a wizard, shall surely be put to death: they shall stone them with stones: their blood shall be upon them.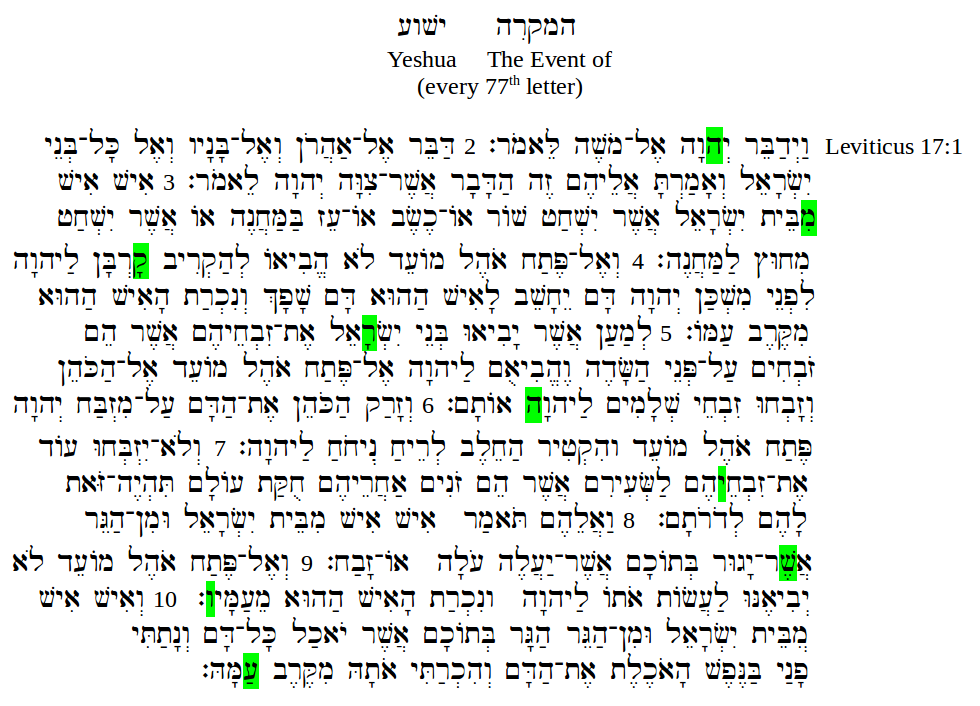 Leviticus 17:1 And Yehovah spake unto Moses, saying, 2 Speak unto Aaron, and unto his sons, and unto all the children of Israel, and say unto them; This is the thing which Yehovah hath commanded, saying, 3 What man soever there be of the house of Israel, that killeth an ox, or lamb, or goat, in the camp, or that killeth it out of the camp, 4 And bringeth it not unto the door of the tabernacle of the congregation, to offer an offering unto Yehovah before the tabernacle of Yehovah; blood shall be imputed unto that man; he hath shed blood; and that man shall be cut off from among his people: 5 To the end that the children of Israel may bring their sacrifices, which they offer in the open field, even that they may bring them unto Yehovah, unto the door of the tabernacle of the congregation, unto the priest, and offer them for peace offerings unto Yehovah. 6 And the priest shall sprinkle the blood upon the altar of Yehovah at the door of the tabernacle of the congregation, and burn the fat for a sweet savour unto Yehovah. 7 And they shall no more offer their sacrifices unto devils, after whom they have gone a whoring. This shall be a statute for ever unto them throughout their generations. 8 And thou shalt say unto them, Whatsoever man there be of the house of Israel, or of the strangers which sojourn among you, that offereth a burnt offering or sacrifice, 9 And bringeth it not unto the door of the tabernacle of the congregation, to offer it unto Yehovah; even that man shall be cut off from among his people. 10 And whatsoever man there be of the house of Israel, or of the strangers that sojourn among you, that eateth any manner of blood; I will even set my face against that soul that eateth blood, and will cut him off from among his people.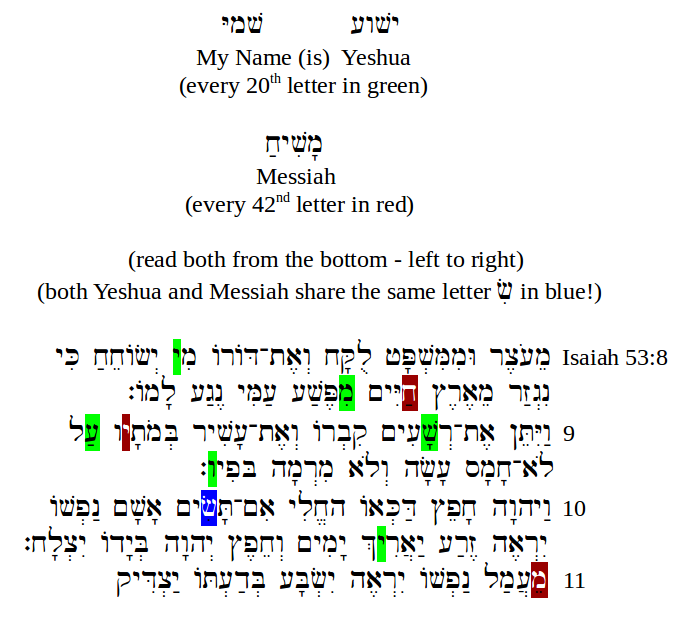 Isaiah 53:8 He was taken from prison and from judgment: and who shall declare his generation? for he was cut off out of the land of the living: for the transgression of my people was he stricken. 9 And he made his grave with the wicked, and with the rich in his death; because he had done no violence, neither was any deceit in his mouth. 10 Yet it pleased Yehovah to bruise him; he hath put him to grief: when thou shalt make his soul an offering for sin, he shall see his seed, he shall prolong his days, and the pleasure of Yehovah shall prosper in his hand. 11 He shall see of the travail of his soul, and shall be satisfied: by his knowledge shall my righteous servant justify many; for he shall bear their iniquities.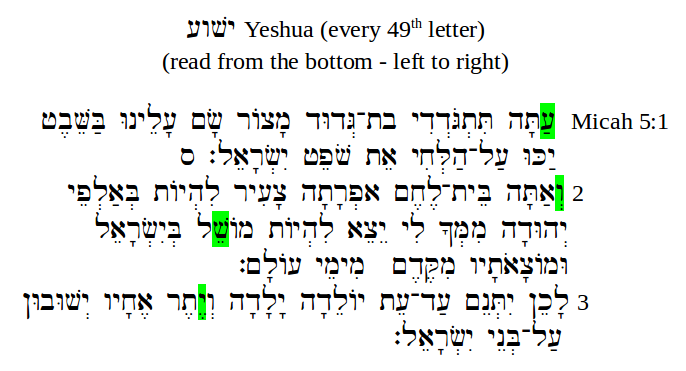 Micah 5:1 Now gather thyself in troops, O daughter of troops: he hath laid siege against us: they shall smite the judge of Israel with a rod upon the cheek. 2 But thou, Bethlehem Ephratah, though thou be little among the thousands of Judah, yet out of thee shall he come forth unto me that is to be ruler in Israel; whose goings forth have been from of old, from everlasting. 3 Therefore will he give them up, until the time that she which travaileth hath brought forth: then the remnant of his brethren shall return unto the children of Israel.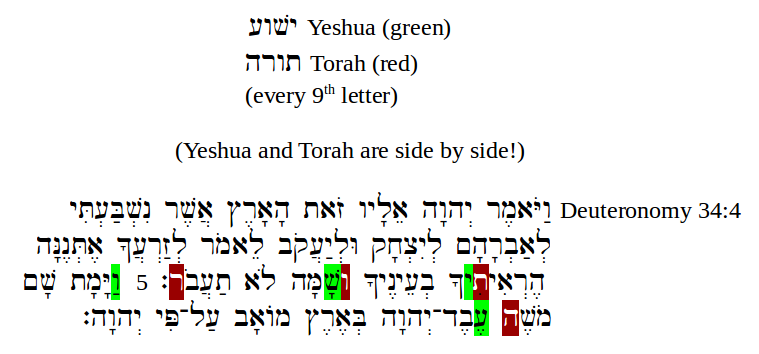 Deuteronomy 34:4 And Yehovah said unto him, This is the land which I sware unto Abraham, unto Isaac, and unto Jacob, saying, I will give it unto thy seed: I have caused thee to see it with thine eyes, but thou shalt not go over thither. 5 So Moses the servant of Yehovah died there in the land of Moab, according to the word of Yehovah.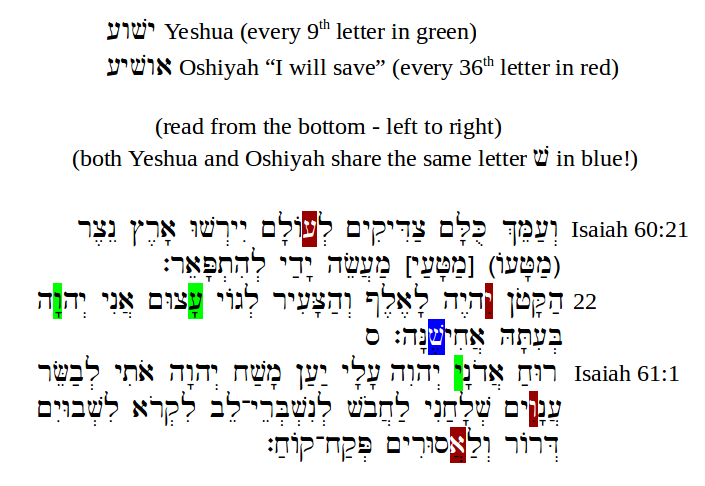 Isaiah 60:21 Thy people also shall be all righteous: they shall inherit the land for ever, the branch of my planting, the work of my hands, that I may be glorified. 22 A little one shall become a thousand, and a small one a strong nation: I Yehovah will hasten it in his time.
61:1 The Spirit of the Lord Yehovah is upon me; because Yehovah hath anointed me to preach good tidings unto the meek; he hath sent me to bind up the brokenhearted, to proclaim liberty to the captives, and the opening of the prison to them that are bound;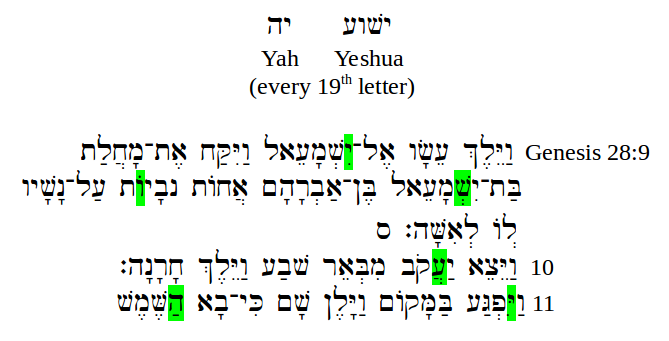 Genesis 28:9 Then went Esau unto Ishmael, and took unto the wives which he had Mahalath the daughter of Ishmael Abraham's son, the sister of Nebajoth, to be his wife. 10 And Jacob went out from Beersheba, and went toward Haran. 11 And he lighted upon a certain place, and tarried there all night, because the sun was set; and he took of the stones of that place, and put them for his pillows, and lay down in that place to sleep. 12 And he dreamed, and behold a ladder set up on the earth, and the top of it reached to heaven: and behold the angels of God ascending and descending on it.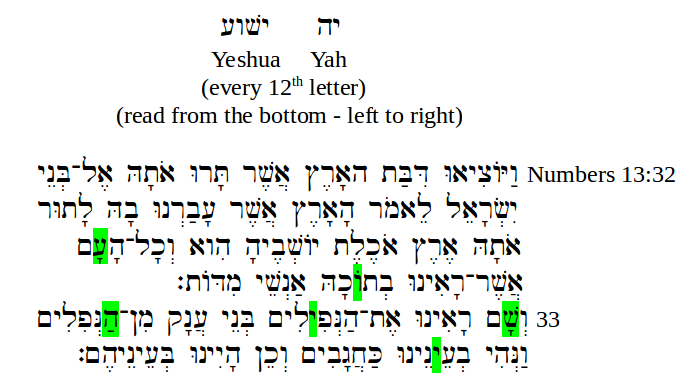 Numbers 13:32 And they brought up an evil report of the land which they had searched unto the children of Israel, saying, The land, through which we have gone to search it, is a land that eateth up the inhabitants thereof; and all the people that we saw in it are men of a great stature. 33 And there we saw the giants, the sons of Anak, which come of the giants: and we were in our own sight as grasshoppers, and so we were in their sight.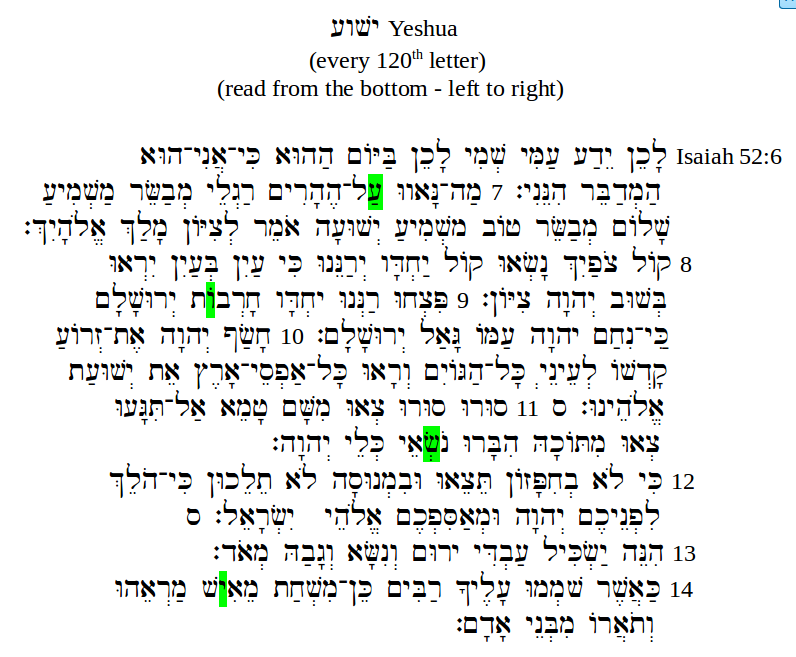 Isaiah 52:6 Therefore my people shall know my name: therefore they shall know in that day that I am he that doth speak: behold, it is I. 7 How beautiful upon the mountains are the feet of him that bringeth good tidings, that publisheth peace; that bringeth good tidings of good, that publisheth salvation; that saith unto Zion, Thy God reigneth! 8 Thy watchmen shall lift up the voice; with the voice together shall they sing: for they shall see eye to eye, when Yehovah shall bring again Zion. 9 Break forth into joy, sing together, ye waste places of Jerusalem: for Yehovah hath comforted his people, he hath redeemed Jerusalem. 10 Yehovah hath made bare his holy arm in the eyes of all the nations; and all the ends of the earth shall see the salvation of our God. 11 Depart ye, depart ye, go ye out from thence, touch no unclean thing; go ye out of the midst of her; be ye clean, that bear the vessels of Yehovah. 12 For ye shall not go out with haste, nor go by flight: for Yehovah will go before you; and the God of Israel will be your rereward. 13 Behold, my servant shall deal prudently, he shall be exalted and extolled, and be very high. 14 As many were astonied at thee; his visage was so marred more than any man, and his form more than the sons of men:

Jeremiah 30:10 Therefore fear thou not, O my servant Jacob, saith Yehovah; neither be dismayed, O Israel: for, lo, I will save thee from afar, and thy seed from the land of their captivity; and Jacob shall return, and shall be in rest, and be quiet, and none shall make him afraid.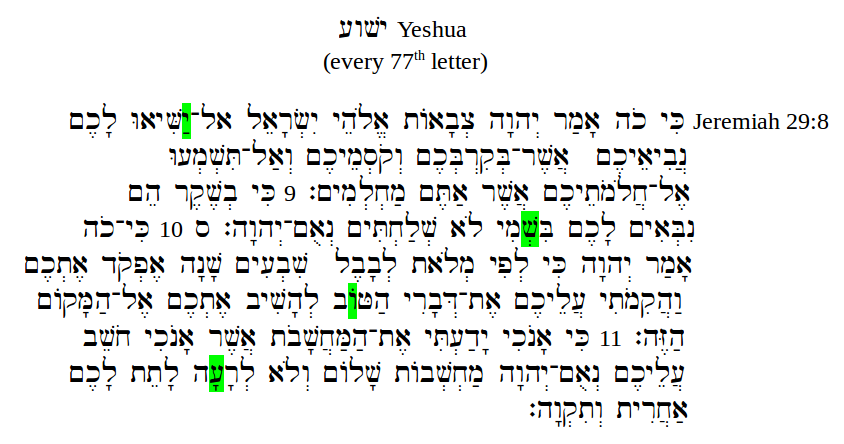 Jeremiah 29:8 For thus saith Yehovah of hosts, the God of Israel; Let not your prophets and your diviners, that be in the midst of you, deceive you, neither hearken to your dreams which ye cause to be dreamed. 9 For they prophesy falsely unto you in my name: I have not sent them, saith Yehovah. 10 For thus saith Yehovah, That after seventy years be accomplished at Babylon I will visit you, and perform my good word toward you, in causing you to return to this place. 11 For I know the thoughts that I think toward you, saith Yehovah, thoughts of peace, and not of evil, to give you an expected end.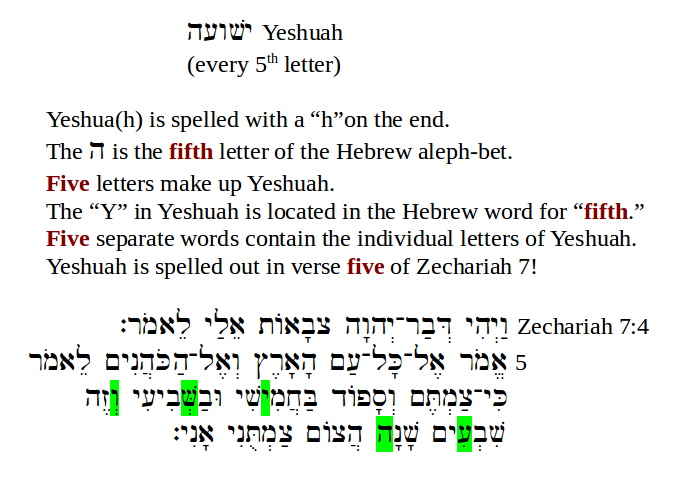 Zechariah 7:4 Then came the word of Yehovah of hosts unto me, saying, 5 Speak unto all the people of the land, and to the priests, saying, When ye fasted and mourned in the fifth and seventh month, even those seventy years, did ye at all fast unto me, even to me?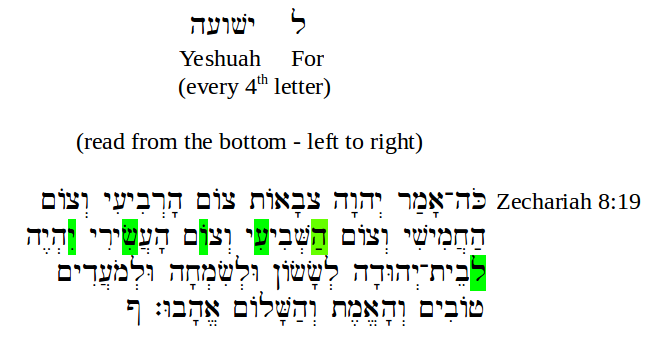 Zechariah 8:19 Thus saith Yehovah of hosts; The fast of the fourth month, and the fast of the fifth, and the fast of the seventh, and the fast of the tenth, shall be to the house of Judah joy and gladness, and cheerful feasts; therefore love the truth and peace.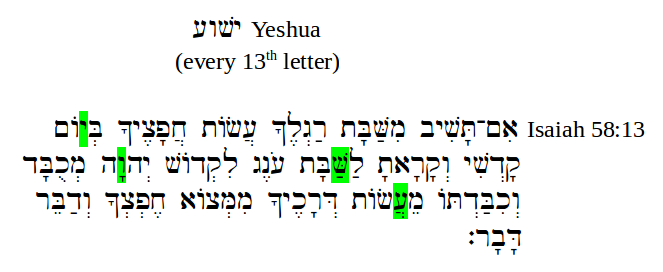 Isaiah 58:13 If thou turn away thy foot from the sabbath, from doing thy pleasure on my holy day; and call the sabbath a delight, the holy of Yehovah, honourable; and shalt honour him, not doing thine own ways, nor finding thine own pleasure, nor speaking thine own words: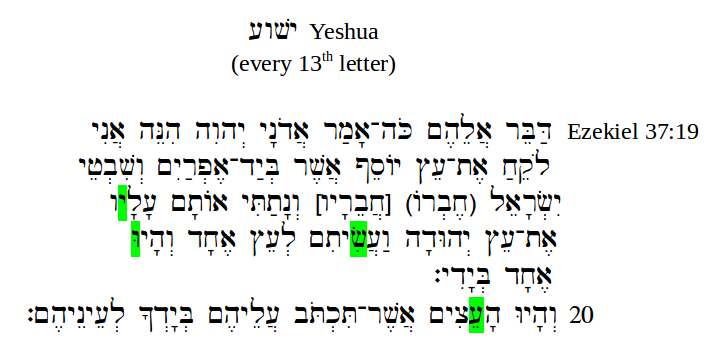 Ezekiel 37:19 Say unto them, Thus saith the Lord Yehovah; Behold, I will take the stick of Joseph, which is in the hand of Ephraim, and the tribes of Israel his fellows, and will put them with him, even with the stick of Judah, and make them one stick, and they shall be one in mine hand. 20 And the sticks whereon thou writest shall be in thine hand before their eyes.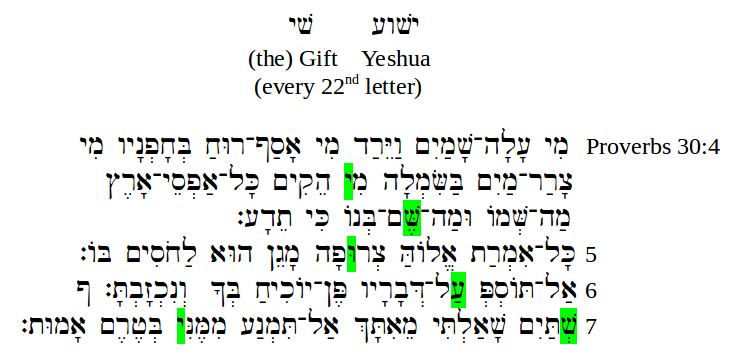 Proverbs 30:4 Who hath ascended up into heaven, or descended? who hath gathered the wind in his fists? who hath bound the waters in a garment? who hath established all the ends of the earth? what is his name, and what is his son's name, if thou canst tell? 5 Every word of God is pure: he is a shield unto them that put their trust in him. 6 Add thou not unto his words, lest he reprove thee, and thou be found a liar. 7 Two things have I required of thee; deny me them not before I die: