The Nextdoor Neighborhood hub is marketed as being the best way to stay informed about what's going on in your neighborhood. Actually, it is a data mining operation designed to sell your data to advertisers and government agencies.
Does it make sense that the best way to know about my neighborhood is to share my data with a global conglomerate?
Do you really want a global entity reading every post that you share with your neighbor?
What if you mention a politically-incorrect term like "guns"?
Do you really want all your neighbors – many who already have the mentality of "see something – say something" putting up posts about what you are doing, which will be fed into government surveillance databases and crime mitigation centers?
See: With Little Fanfare, William Barr Formally Announces Orwellian Pre-Crime Program
October 25th, 2019
A recent memorandum authored by Attorney General William Barr announced a new "pre-crime" program inspired by "War on Terror" tactics and is set to be implemented next year.
Last Wednesday, U.S. Attorney General William Barr issued a memorandum to all U.S. attorneys, law enforcement agencies and top ranking Justice Department officials announcing the imminent implementation of a new "national disruption and early engagement program" aimed at detecting potential mass shooters before they commit any crime.
It's like Facebook on steroids – the main purpose is to sell you out – either to advertisers – or governments!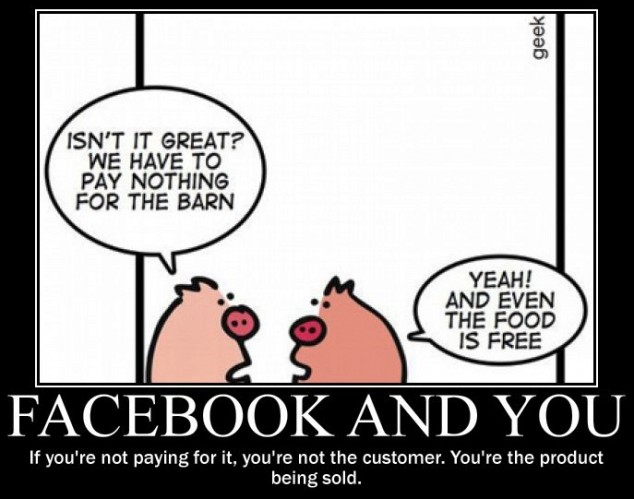 Look over the Nextdoor Privacy Policy and see what they are really doing – aggregating every bit of information about you from every conceivable source and then selling this data to advertisers and government agencies.
3.1 Data we collect from you or with your permission.
We collect a variety of information from you when you provide it to us directly, when we request it from you, or when you give us permission to get it from a third party source.  Here are some examples of these instances:
Contact details
When you sign up for Nextdoor, you provide your name, address, phone number, profile photo, email address, and similar information.
Network details
so we can send an invitation and follow-up reminders to potential new members on your behalf.
Social data.
If you use Facebook to log in to Nextdoor (or later connect your Facebook account to your Nextdoor account) you authorize Facebook to share your personal information with us, including your name and email address.
Posts, interests, and recommendations.
support a local business, you can choose to share information about it
share information about yourself in your profile, including your interests, skills, or even what you love about your neighborhood.
If you want to connect and communicate with neighbors about specific interests, you may share information about your interests.
If you want to allow us to show you where you are on your neighborhood map, tag your posts, photos and events by location, or verify your address (where available), you can enable sharing this in your settings.
Payment information
you are providing our trusted third party payment processors with certain payment information
Survey data
If you take part in surveys or other general research we undertake
3.2 Data we collect from you and your device
Device data, which tells about the device you're using, such as what type and model it is, its operating system and version, its unique identifier, crash data (if applicable), and what settings you've enabled.
Log data, which is automatically recorded by our servers based on data sent by your app or browser. This typically includes the date and time you visited, the browser or app version you used (and its settings), the URLs you come from and go to, your IP address and protocol, and how you used Nextdoor (for example, which links you clicked on).
Cookie data, which comes from "cookies" (small data files stored on your computer or mobile device) and similar technologies. Cookie data helps us recognize you, remember your preferences, and personalize your experience. Our third party advertising partners also use cookies and similar technologies to collect information about users for advertising purposes as described below.
Pixels, SDKs and other storage technologies, which operate similar to cookies and are used by us, as well as by certain third parties, such as social media networks and advertiser platforms, to collect or receive information from our and other websites and apps to provide measurement services and target ads.
3.3 Data we collect From third parties and public sources
We may collect information from third parties, service providers, partners, and publicly-available sources, such as:
Vendors that provide us with map information
Vendors that provide information about members and their homes for advertising analytics, personalization, and measurement.
Advertisers that provide us with information about their users or customers to help us personalize advertising or measure the performance of their advertisements.
Public sources such as census data, street addresses, property lot maps, and postal address change information,
4. How is this information used?
We use the information we have to help us provide, operate, improve, understand, customize, support, and market our Services. We may also use the information we have for other purposes where permitted by law.
4.4 Advertising
We use your information to provide and improve advertisements and other commercial offerings both on and off the Services:
To measure whether an advertisement was interesting to members.
To measure whether an advertisement was effective for the advertiser.
To help personalize advertisements based on what we think will be of interest to you.
To provide and measure the effectiveness of personalized advertising.
To improve the personalization of advertisements.
We may customize advertising offers you see on Nextdoor based on information from our advertisers or vendors, on the demographics of your neighborhood, or on your actions on Nextdoor. For example, a home services company might provide a list of addresses eligible for a special deal that we may offer to Nextdoor members who live at those addresses. Or, if you search Nextdoor for a particular product, we might show you advertisements for providers of that product or related or similar products. Our third party advertising partners also use cookies and similar technologies to collect information about members for advertising purposes as described below and in our Cookie Policy.
6.5 Advertising
If you click on or reply to an advertisement or other offer, we may share your reply with the advertiser, and we may log your interaction as part of tracking the overall effectiveness of the advertisement.  We may also pre-populate replies to ads you click on with your contact details
6.6 Third Party partners
Nextdoor may partner with third party companies to offer members the ability to book a range of different services, such as home improvement, dog walking, personal training, and tutoring.
we may share limited information with such third parties, such as your neighborhood or zip code, the business topic of the content you are viewing, or a business search query (for example, a search for "plumber").
6.7 Service providers
We may also share your personal information with service providers and/or data processors to help us operate, provide, improve, understand, customize, support, and market our Services.
6.8 Within the Nextdoor corporate family
We may share your information within our "corporate family", including between Nextdoor, Inc., Nextdoor Canada, Ltd., Nextdoor Australia Pty Ltd., and Nextdoor EMEA (Europe, Middle East, and Africa) Limited, to help provide, maintain, and improve Nextdoor. Some of these companies may be located in the same country as you, however, others may be located overseas, including the Australia, Canada, Ireland, and the U.S. As we grow and Nextdoor becomes available in more countries, we may expand our corporate family by establishing local subsidiaries or other affiliates in these countries as needed to help us provide Nextdoor there.
6.10 Aggregated Information
We share some aggregated information about our neighborhoods with government agency members and other organizational members, such as statistics about neighborhood activity and size.
14. No warranty
NEXTDOOR AND THE ASSOCIATED SOFTWARE AND SERVICES ARE PROVIDED "AS IS." We do not promise that any aspect of our software or service will work properly or continuously. We may add, change, or discontinue product features;
18.1.1 Governing law
This Agreement is governed by California law,
Conclusion:
Any service like Nextdoor being in the US jurisdiction, is subject to one of the most severe surveillance governments in the world with the least privacy. You have to assume that all data is continually assimilated by the NSA and other agencies. Any data on any server in the USA can be ordered to be handed over to the government as Yahoo experienced in 2015.
All dictatorships violate the privacy of their citizens. All democracies have laws aimed at protecting privacy, which is paramount to preserving democracy.
A neighborhood watch service is great – it just needs to be implemented and controlled by the local neighborhood!
We are already living in an Orwellian society that is only one dictator away from becoming a full-blown dystopia!
Sincerely,
David Ford