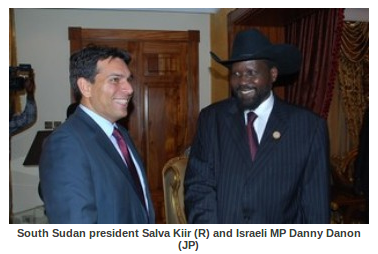 It was refreshing in 2011 to see the world's newest nation of South Sudan declaring that it would put it's embassy in Jerusalem. No other nation has ever located it's embassy in Jerusalem.
August 29, 2011 (WASHINGTON) – The president (Salva Kiir) of the newly established state of South Sudan told a visiting Israeli delegation that their future embassy in the Jewish state will be built in the disputed city of Jerusalem rather than in the political capital of Tel Aviv, according to a newspaper report.
But curiously, South Sudan decided to first take a detour via New York and join the United Nations, becoming it's newest member.
Thursday, 14 July 2011 16:01
In the beginning there were 51 member states. Today, more than 65 years on, South Sudan has been welcomed by the UN as the 193rd member state.
Membership of the United Nations "is open to all peace-loving States that accept the obligations contained in the United Nations Charter and, in the judgment of the Organization, are able to carry out these obligations". States are admitted to membership in the United Nations by decision of the General Assembly upon the recommendation of the Security Council.
Apparently, agreeing to the obligation to carry out the United Nations Charter means never locating your embassy in Jerusalem!
This aversion to recognizing Jerusalem as Israel's eternal capital is rooted in a rejection of Israel's God and especially a resistance to the Messiah's return to Israel.
When Yehovah shall build up Zion (Jerusalem), he shall appear in his glory.

– Psalm 102:16
I have set watchmen on your walls, O Jerusalem; They shall never hold their peace day or night. You who make mention of Yehovah, do not keep silent, And give Him no rest till He establishes And till He makes Jerusalem a praise in the earth.

– Isaiah 62:6-7
So look where the South Sudan Embassy is now!
South Sudan Embassy, State of Israel
Do you see Jerusalem anywhere near their embassy? I don't!
But there is still more to the story. Making friends with the United Nations allows unsavory characters to meddle in your affairs – doing things like getting rid of a president who looks favorably to Israel.
Friday, 03 February 2017
Amid an ongoing conflict in South Sudan between the national government and an opposition group, the United Nations, the African Union, and the global governance-promoting Council on Foreign Relations have touted a plot to impose a UN-created regime on the sovereign African nation. In short, the nation would be put under what is being termed a "UN trusteeship," without its consent.
South Sudan is the world's youngest country, becoming independent just over five years ago following almost unanimous public support in a referendum for splitting from the mass-murdering Islamist regime in the North. The current conflict raging in South Sudan began in late 2013. As is typical of such conflicts, both sides have their own versions of what happened, with each accusing the other of instigating the problem. What is clear, though, is that then-First Vice President Riek Machar decided to separate from the government of President Salva Kiir and launch an armed uprising. Since then, several peace agreements have collapsed, fighting has continued, and the nation has remained divided.
Under the proposed plan outlined in the CFR report, South Sudan's government would be disbanded, and a new one created by foreigners would be imposed by force. As part of that effort, a "peace intervention force of soldiers and police," along with a "joint UN-African Union executive administration," would "provide basic services, oversee financial operations, and appoint ministers and personnel," according to the report, headlined Ending South Sudan's Civil War. The plan would also force Kiir and Machar out of power, while dismantling the nation's current institutions. The report estimates that the UN-AU regime would be in place for ten to 15 years.
In South Sudan itself, critics on both sides of the conflict have lambasted the UN's globalist plot as reflecting an elitist, colonial attitude that views Africans as incapable of sorting out their own affairs without help. President Kiir, in particular, has long blasted the UN, the UN Mission in South Sudan (UNMISS), and its interference in his country. In early 2014, for example, shortly after the start of the conflict, he accused the UN and other outfits of allegedly supporting and encouraging opposition leader Machar's plot to overthrow the government. Indeed, the interference was so extreme, Kiir said, that the UN was acting like a "parallel government" and even sheltering opposition fighters on UN bases.
So, the lesson here is that in trying to please the United Nations, you become God's enemy and loose your own country!
Do you not know that friendship with the world is enmity with God? Whoever therefore wants to be a friend of the world makes himself an enemy of God.

– James 4:4